September 2022 Newsletter
Lone Star District News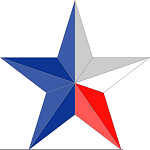 See you This Thursday September 8th for Roundtable!
Calling all Scout Leaders!  This month's Roundtable is has great information about welcoming new families (parent orientation), engaging older youth - and everyone's favorite topic recharter. You need to come!!  Plus, I think I heard we will have cookies?  We will meet in person at 7PM at:
Lighthouse Fellowship
7200 Robertson Rd, Fort Worth, TX 76135

or Join the Zoom Meeting:
https://bnsf.zoom.us/j/87823498556?pwd=WDlpQUxVbGxXaWhmSUNKd04wNzZNUT09

Meeting ID: 878 2349 8556
Passcode: 806971

IOLS/BALOO September 30th - October 2nd
Attached is the flier for IOLS/BALOO training September 30th at Camp Holland.  Having a BALOO trained leader on-site is required for a Cub Scout family campout, and IOLS is required to be position trained for Assistant Scoutmaster and Scoutmaster.  You Scouts deserve a trained leader, and this is the perfect opportunity to get this great training close by in Weatherford (done in collaboration with Santa Fe District).  Registration is here:

https://scoutingevent.com/662-SF_IOLS


Longhorn Council University of Scouting is November 19th

University of Scouting is a great event with classes for every type of Scouting - Cubs, Scouts BSA, Venturing, Sea Scouts, Exploring - there are even classes for Youth 14+.  Additionally, this is the best networking opportunity in the Council where you will get to meet leaders from all over Longhorn Council, there for the same reason you are- to deliver the best program possible to the Scouts.  Again this year it's being held at the TCC Trinity River Campus (former RadioShack HQ), right here in the Lone Star District. Register now for a special patch and the discounted $20 registration this month!
Registration is live​ here:

https://scoutingevent.com/662-UniversityofScouting2022

Degree application is here:

https://forms.gle/DcBgviiBQc3E811d7
​Much Much More at Roundtable

​​Recruiting is in full swing with School Talks and Signup Nights happening in mere days.  Get the latest District News and info to help your membership campaign be successful!

Yours in Scouting,

Tom Kisner
Lone Star District Commissioner
kisner@live.com - 682-777-8557